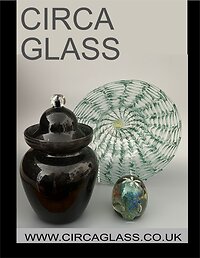 Welcome to Circa Glass
Last updated on 2.12.2023.
We specialise in twentieth century decorative and collectable glass.
If you would like further information please get in touch.
*
Please note that we do not offer a valuation service.
If you have specific enquiries please don't hesitate to contact us.
Orders
We are very experienced in packaging glass and to date no pieces have been damaged in the post. We now offer FREE DELIVERY.
All pieces offered for sale are in excellent condition other than occasional minor imperfections commensurate with age. It is extremely important to us that our customers are happy with their purchase and so you have the opportunity to return the item within three weeks if you are not completely satisfied. All we ask is that you let us know in advance and return the piece in the same condition with the same or similar packaging and we will return your payment upon receipt. In the unlikely event of your item arriving damaged or broken, please retain all packaging until a claim lodged with Royal Mail is concluded

We also take payment via PayPal if preferred. Please email us if you would like to use this facility and we will send you an invoice.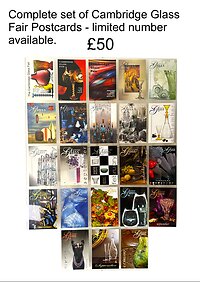 Cambridge Glass Fair Postcards
Twenty three collectable postcards including the rare first card from the February 2003 fair at the Cambridge Guildhall.
Click on picture for a larger image.

If you would like follow us on Twitter
click here
You may also like to visit our Etsy shop
click here