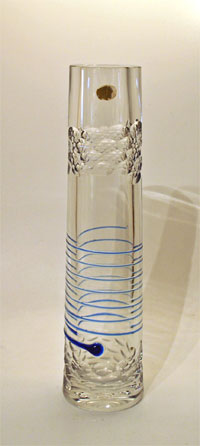 Welcome to Circa Glass
Last updated on 29.09.2016.
We specialise in twentieth century decorative and collectable glass. You can see and purchase our glass from this site or meet us at the fairs at which we exhibit. We try to show a varied selection of the glass we have for sale but if you do not see what you are looking for, please get in touch - we may have it in stock or be able to find it for you.
If you would like further information please contact us.
Left: A 1950s-70s Novy Bor vase. (See Czech Glass page for details.)
*
Please note that we do not offer a valuation service.
Orders
We are very experienced in packaging glass and to date no pieces have been damaged in the post.
All pieces offered for sale are in excellent condition other than occasional minor imperfections commensurate with age. It is extremely important to us that our customers are happy with their purchase, and so you have the opportunity to return the item within three weeks if you are not completely satisfied. All we ask is that you let us know in advance and return the piece in the same condition with the same or similar packaging and we will return your payment upon receipt. In the unlikely event of your item arriving damaged or broken, please retain all packaging until a claim lodged with Royal Mail is concluded.
Payment
We accept payment by personal cheque. It usually takes 7 days for payment to clear after which we will dispatch your order.

We also take payment via PayPal if preferred. Please e-mail us if you would like to use this facility and we will send you an invoice.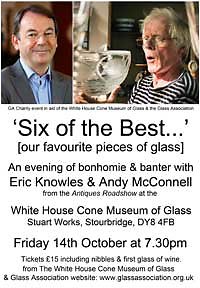 'Six of the Best' - an evening with Eric Knowles and Andy McConnell from the Antiques Roadshow
The Glass Association presents an evening of bonhomie and banter with these two old friends and associates who will be discussing their six favourite pieces of glass and recollecting some of their experiences.
At the end of the evening a stunning specially made vase by Richard Golding of Okra Glass will be auctioned by Eric.
Come and join us for wine, nibbles and a lot of fun at the new White House Cone Glass Museum, Stourbridge on Friday 14th October at 7.30pm. Tickets are £15pp.
More details and booking information can be found on the G.A.website at
www.glassassociation.org.uk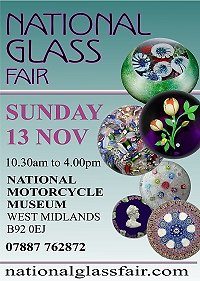 If you make a purchase from this website we will include a free admission ticket for two to either of the glass fairs listed below:
The National Glass Fairhas returned to its former home at the National Motorcycle Museum, Solihull, West Midlands B92 0EJ.
The next fair will take place on Sunday 13th November. This major specialist fair will be open from 10.30am - 4.00pm, admission £5, accompanied children under 16 free.
For all the latest news, exhibitor list, floorplans, directions etc, please visit
www.glassfairs.co.uk
.
To view the video made at the November 2009 fair
click here
Open from 10.30am until 4.00pm, admission is £5 with accompanied children under 16 free of charge.
Exhibitions, refreshments, free parking.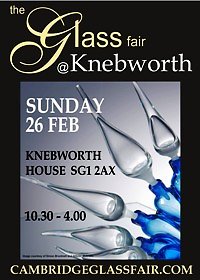 The Cambridge Glass Fair
www.cambridgeglassfair.com
has an exciting new venue, the famous Knebworth House in Hertfordshire and so is now known as 'The Glass Fair @ Knebworth'.
**NEXT FAIR DATE: 26th February 2017**
This is a leading specialist fair with around 70 exhibitors selling antique, collectable and contemporary glass from specialist dealers and glass artists.
'300 years of glass in one day'.
Open from 10.30am until 4.00pm, admission is £5 with accompanied children under 16 free of charge.
Exhibitions, refreshments, free parking.

Apart from visiting the Glass Fair @ Knebworth and the National Glass Fair websites you can also like us on Facebook and follow us on Twitter is you wish to keep up to date about both fairs. To visit the Facebook page
click here

If you would like follow us on Twitter
click here
Other Forthcoming Fairs
Clare Antiques Fair, Town Hall, Market Hill, Clare, Suffolk, CO10 8NN
Dates for 2016:
Saturday 3rd September, 2016
Sunday 4th September, 2016
Saturday 22nd October, 2016
Sunday 23rd October, 2016
Times: 9.00am - 4.00pm,
Admission: £1.
www.clarefair.co.uk